Action Figures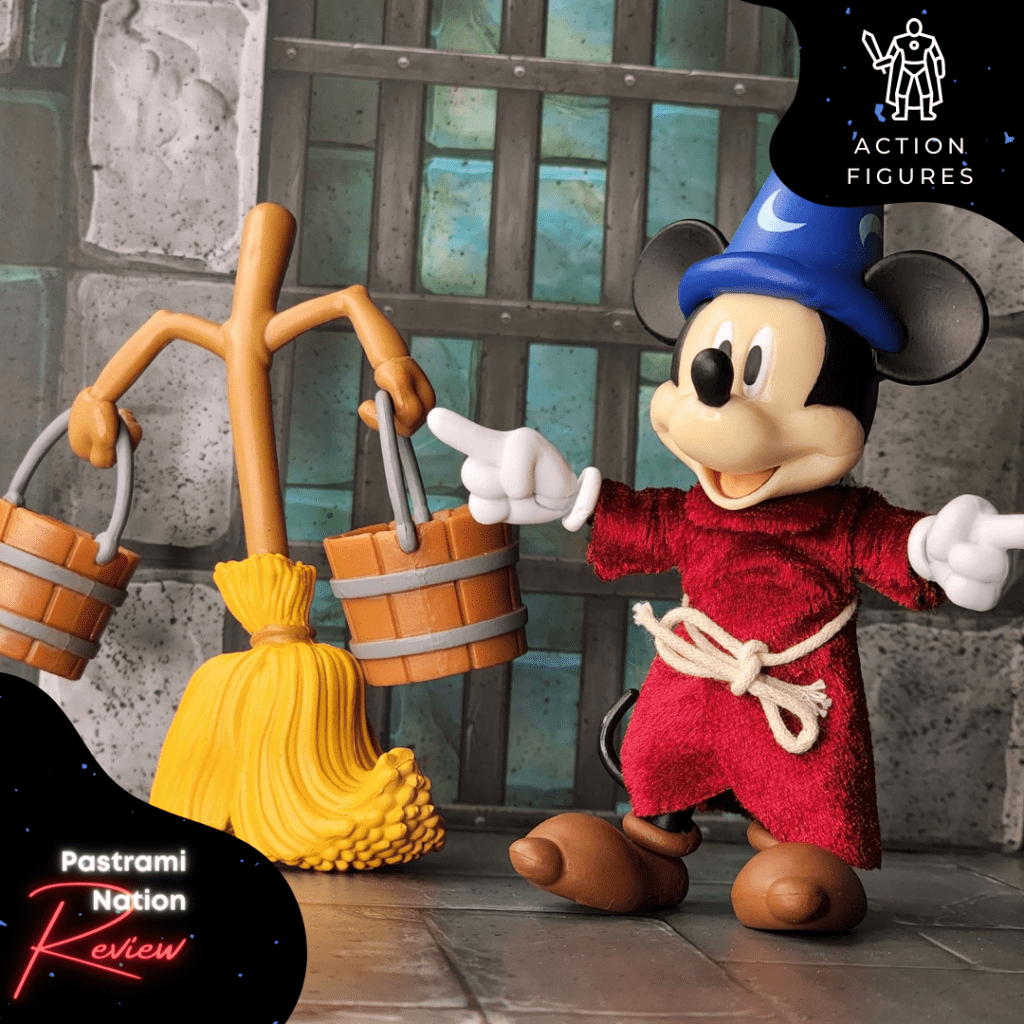 Fantasia Sorcerer's Apprentice Mickey Mouse Ultimates Review
By Nolan P Smith
Editor
When Super7 first announced they were creating a line of Disney Ultimates figures, I was beside myself. The Ultimates line is my favorite current action figure line, as they have brought the world Conan, Toxic Crusader, Voltron, Thundercats, and more. Now, with the house of mouse under their wing, we get one of the most anticipated lineups, starting with my personal favorite, Sorcerer's Apprentice Mickey Mouse.
Straight out of the animated classic Fantasia, the figure comes in the amazing Ultimates packaging we all know and love. Hands down the best packaging in an action figure line. In a brown mailer box, we get a very well-designed box and slipcover, showcasing Fantasia and Disney in grand fashion. Mickey comes packed with three different heads, interchangeable hands, the animated broom with two water buckets, an ax, and the sorcerer's giant spell book. This figure is loaded with accessories!
Disney's Mickey Mouse as the Sorcerer's Apprentice leaps off the screen with this vibrant figure. With a soft goods cloak, this is one iconic figure. The Ultimates line is known for unparalleled articulation and sculpting, and even this small figure doesn't have a huge amount of articulation, it still lives up to what we have come to expect from the line-up. Don't get me wrong, for a smaller figure, Mickey has plenty of articulation, and the robe does not hinder the poseability. The head sculpts are amazing, with unique expressions for tons of posing.
I absolutely love this figure, despite some minor setbacks. Like how the ax is too heavy for Mickey to hold for long before the arm and wrist articulation turn. But overall, it is the best Mickey Mouse figure I have come across, from one of my favorite Disney films. So for me, this is a home run all the way. Make sure to check out the first wave of Disney Ultimates from Super7!
Rating: 4.5 Pastrami Nations out of 5.

Nolan P. Smith is the Editor in Chief and Co-Founder of Pastrami Nation. For the past ten years, he has worked for various media outlets, from newsprint to the ever-evolving internet platform. Residing in Pinon Hills, CA, writing has always been a significant aspect of his life. A reporter, teacher, public relations specialist, and more, Smith takes the most pride in being a husband and a father. You can follow him on Twitter and Instagram at @pastramination.