Art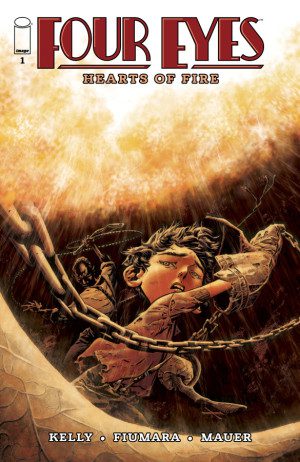 Four Eyes Hearts of Fire #1 Review: How to Train Your Dragon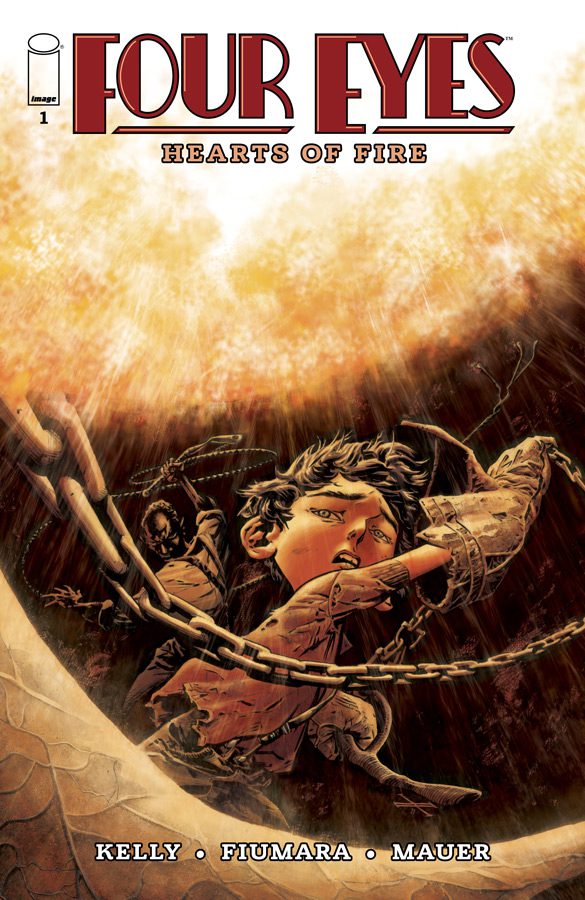 By Daniel Schwartz
Contributing Guest Reviewer
(Victor Valley)– There have been many stories in comics and movies that involve the bonding of a boy and his dragon. That said, there are none others that I can recall taking place in depression-era New York City.
Following the death of his grandfather, the primary protagonist (the young Enrico Savarese) faces the daunting challenge of training his pet dragon for fighting. Under the somewhat harsh mentorship of Mr. Fawkes, Enrico sets out to find out what it will take to turn his dragon Four Eyes (named for the fact that he has four eyes) into a fighting machine. Taking a trip to an underground dragon training and fighting site, Enrico witnesses the horrifying truth of how the dragons are treated in order to prepare and fight them.
It is interesting that Joe Kelly chose this particular setting. The depression-era city illustrates the racial tensions of the time and some of the underground criminal activity taking place with very real clarity. While it may seem like a strange combination of setting and story on the surface, Joe Kelly makes it work. Dragons are seen as a normal thing (albeit a part of the criminal underground) and the reader is able to accept it quickly and enjoy the evolving story.
With the obvious undertones of racial inequality and underground dragon fighting (substituting for cockfighting because let's face it, fighting roosters is just not as interesting as dragons), there is also some subtle symbolism taking place as well. The entire story is presented in black and white except for a splash of red seen in Enrico's gloves. While the meaning behind this has yet to be revealed (it is only the first issue after all), I am very positive that it will play a big role and the meaning will become clear as the story develops.
Not only does Image deliver a solid and interesting story, readers are also treated to amazing pencils by Max Fiumara. Personally, I am not a fan of the black and white style, but Fiumara's artwork makes you forget that there is no color and draws you into a world where dragons exist in 1930's New York.
Rating: 4 out of 5. Fans are treated to a healthy mix of fantasy, history, and symbolism in the first chapter of this tale of a boy and his four-eyed dragon.
Publisher: Image Comics
Writer: Joe Kelly
Illustrator: Max Fiumara