Art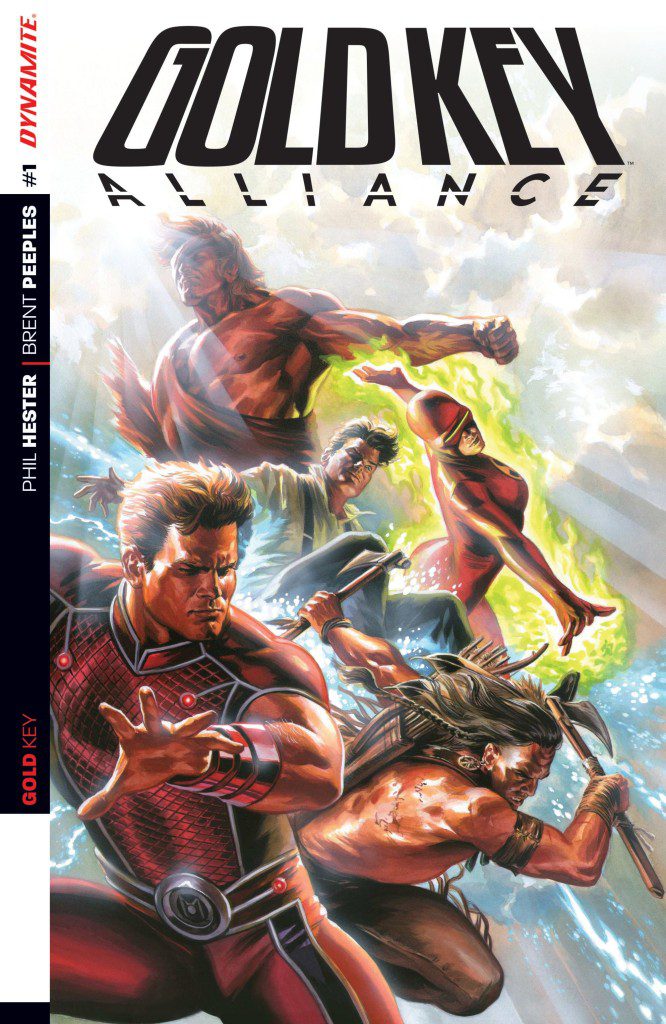 Gold Key: Alliance #1 Review
Gold Key Alliance Brings Key Characters to the Modern Age
By Nolan P. Smith
The Gold Key characters are some of the most iconic characters to grace the four-color page. Turok- the dinosaur hunter, Solar- man of the atom, Magnus- the robot fighter, the mighty Samson- these are characters that have been around for a long time, and throughout different time periods. With Gold Key: Alliance #1 from Dynamite Entertainment, all these characters are re-imagined in a unified timeframe- the here and now.
Written by Phil Hester with art by Brent Peeples, this issue introduces each of these characters into modern times- Samson is a raging, hallucinating homeless man, Turok is a TV star and ranger of sorts for a prehistoric park, Magnus is a security guard for the Secretary of State, and Solar appears to be a young woman fighting off warlords in Africa. Very different roles for each character, but I really enjoyed seeing each in a different setting than what we are used to. Plus, seeing Turok with a Tek-arrow like the old video game, that was pretty awesome in itself.
I feel that Hester did a great job on setting up these Gold Key characters and modernizing them to fit into the present day world. Peebles art works very well here, illustrating these classic characters for today's audience. With the set up of this issue, I am excited to see not only where these characters end up, but to also see how they come together and what the overall threat ends up being.
Rating: 8.0 out of 10.
This review was created in conjunction with QBC Toys and More, a local comic book and collectible shop located in Victorville, CA. Featuring new comic books every week, collectibles, action figures, original artwork, and more, QBC has something for the pop culture lover in us all. You can find them on Facebook at https://www.facebook.com/QBCToysandMore/.