Movies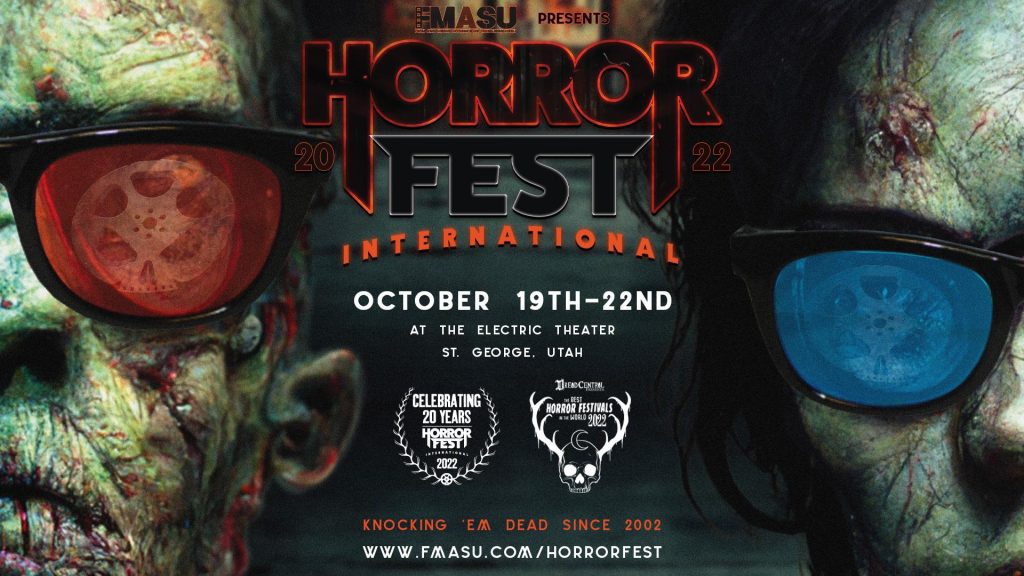 HORRORFEST INTERNATIONAL 2022
ANNOUNCES OFFICIAL SCHEDULE AND TICKET
SALES FOR ITS 20TH ANNIVERSARY CELEBRATION!
By Staff Reports
The 501(C)(3) nonprofit Film and Media Alliance of Southern Utah (FMASU) just announced the
official schedule and all ticket sales for the upcoming HorrorFest International Film Festival. Festival dates are set for Wednesday, October 19th thru Saturday, October 22nd with Southern Utah's historic Electric Theater serving as the primary venue for the event. HorrorFest is on the cusp of quite the milestone as this spine-tingling cinematic celebration of all things horror celebrates its 20th anniversary.
After viewing hundreds of submissions, HorrorFest International programmers have finally zeroed in on official selections and put together a most terrifying lineup.

HorrorFest International has screened countless genre titles from all over the world. Additionally, HorrorFest International has welcomed multiple special guests including the likes of Ted Raimi ("Evil Dead II: Dead By Dawn,' "Deadwax"), Colin Cunningham ("Falling Skies," "Preacher," "Centigrade"), Frank Dietz ("I Hate Kids," Shudder's "Creepshow" series), The Adams Family (the makers of "Hellbender), and more.

This year's fest, one that the well-respected website Dread Central recently named one of the best horror festivals in the world, will offer over 60 horror films–shorts and features– from all over the globe over the course of 4 fright-filled days. Additionally, HorrorFest International 2022 will host filmmaker Q&As, panels, horror trivia, a live script read, a costume contest, food, an awards ceremony, and more. All details at fmasu.com/horrorfest.

Included in this year's proceedings; The Utah premiere of "Feed Me" from the twisted minds of Adam Leader, Richard Oakes, and Neal Ward, the Utah premiere of Shudder's high energy crowd-pleaser "Deadstream," the Utah premiere of the World War I-set slice of isolated terror "Bunker," the extensive love letter to the genre and rock world that is "The History of Metal and Horror," and a mystery screening of yesteryear that's sure to scare the living daylights out of you. Additionally, expect plenty of special guests including the return of Frank Dietz. This wonderful screenwriter and artist will be on hand with his nonprofit Scripts Gone Wild to do a live reading of an 80s horror classic during what
is sure to be a lively opening night after party. Also on hand this year; "Deadstream" creators Joseph and Vanessa Winter, as well as James Huntsman and Michael Huntsman, the filmmaking team behind "Bunker." Additionally, writer/director Rob York will be on hand for a screening of "Curse of Crom: The Legend of Halloween.' Other guests will include James Morris ("He Never Left"), Tom Proctor ("Guardians of the Galaxy"), and more..

HorrorFest International takes place in beautiful St. George, Utah. This amazing city is only a two-hour drive north of Las Vegas, NV, and is surrounded by some of the most breathtaking scenic locales in the U.S. including Zion National Park, Pine Valley, and Snow Canyon. Come for the horror films and stay for the sights. This is a weekend of horror you won't soon forget.
All-Access Fright Passes, 4-Day Screening Passes, Day Passes, and Single Film Block Tickets are on sale now at fmasu.com/horrorfest.