Comics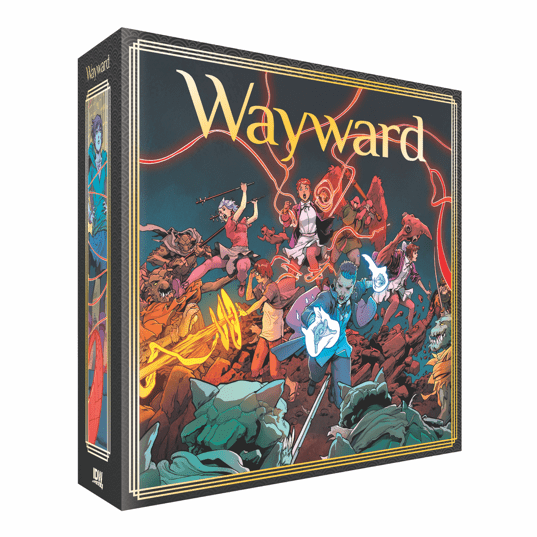 IDW Games Announces Signature Edition for the Wayward Board Game
By Staff Reports
IDW Games is proud to announce the Wayward Board Game – Signature Edition, based on the comic series world by Jim Zub (Rick and Morty VS. Dungeons & Dragons) and Steven Cummings (Legends of the Dark Knight, Forager, Wayward), with new art by Cummings and game design by Jonathan Gilmour (Dinosaur Island, Dead of Winter). Wayward presents players with a highly thematic threat management game and multiple unique and challenging scenarios that push them to take risks, and, in return, grant their characters more powerful abilities and items.
Wayward is a cooperative board game for 1-5 players where each player takes on the role of a teenager with newfound supernatural abilities. The next generation of the supernatural has emerged in Tokyo, and these teens are fighting for their survival and to prevent the Weave – the hidden threads of power and destiny that guide our world – from unraveling. These "wayward children" threaten the old order and the creatures and spirits known as the Yokai are determined to eradicate them before they are usurped. Players choose one of five different scenarios to play, each with its own unique rules and challenges, to defeat the Yokai and destroy their places of power.
Jerry Bennington, IDW Publishing's VP of New Product Development, says, "Being able to bring the fantastic world of Wayward to the tabletop has been a lot of fun. The art, miniatures, and game are a great way to experience the world that the comics have created."
Jim Zub, writer of Wayward, says, "Jonathan Gilmour has put together the kind of fun and challenging game I love playing at the table with my friends. It has an intense strategic style that's full of surprises. Win or lose, each play through is a blast to see through to the end."
Wayward Board Game – Signature Edition will be available on Kickstarter for pre-order in February 2019 for $70.00 and will include exclusive upgraded packaging, miniatures sculpted by Ninja Division (Super Dungeon), and bonus character with scenario. Prior to the campaign, fans attending PAX Unplugged (Nov. 30 – Dec. 2) will have the opportunity to demo the game at IDW Games booth #3148.
Follow IDW Games and Jim Zub's website and social media for more information about the Wayward Board Game – Signature Edition!