Collectibles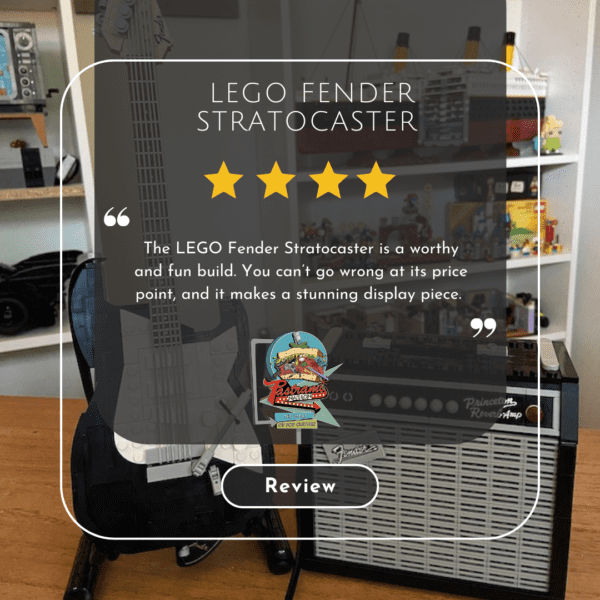 LEGO Fender Stratocaster Review
By Kevin Hoskinson
Entertainment Editor
Besides being rock and roll legends, what do Buddy Holly, Eric Clapton, and Jimmy Hendrix have in common? Here's a hint, they all played the same guitar! And now, you can party like a rockstar with the LEGO Fender Stratocaster, a LEGO Ideas set that is a must-have for fans of classic rock and fans of really cool and intricate builds in general.
With this 1,074-piece set, you get both a recreation of a 1970's style electric guitar and a 65 Princeton Reverb amp. It took me about six hours to assemble and proved to be a bit more challenging than expected. While the build itself is fairly straightforward, the strings and tightening them proved to be the most difficult. You can't strum it afterward in fear of loosening the strings, but other than that, it's a pretty faithful recreation of the real thing.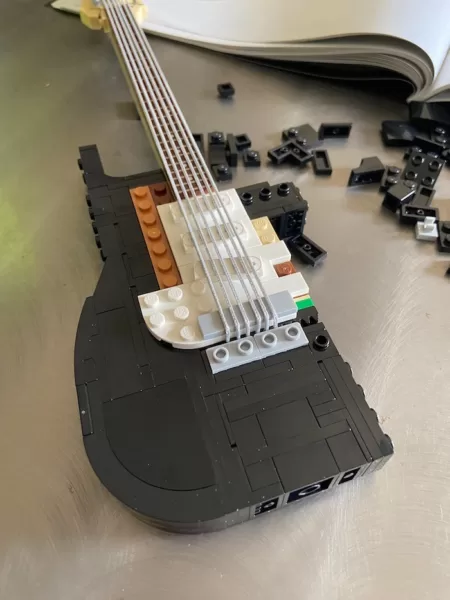 You start out by building the stand, which isn't too many pieces and is a straightforward design, using some Technic pieces to create. Then it's onto the neck and headstock before parts of the body and then the strings. The way they connect to the back of the build is pretty neat, paving the way for a flawless design. Then you need to pull them around the front from the bottom and up to the head of the build. It's here where the challenges start, connecting them to the imitation tuning pegs to tighten. It's just hard when there isn't any gripping or anything on the small pegs to hold on to the strings while you tighten. As soon as you are done with that, you finish off the guitar by building the body around that. It's a pretty quick and mostly painless design.
Then it's onto the amp. One thing that might make it feel a bit tedious is the number of pieces used to build the front of the amp. While it's no Rivendale roof tiles, there are still so many little parts to deal with, and it feels like a lot. Other than that, it is really cool how many details they crammed into it. There is some pretty unique stuff when it comes to the interior of it, from circuit boards to wiring. The back and top come off easily, so you can show off the inside or keep it as is for display. This is where most of the building takes place; as a whole, it's a fun time. You essentially get two mini-builds in one package, and I'm not one to complain about that.
The LEGO Fender Stratocaster is a worthy and fun build. You can't go wrong at its price point, and it makes a stunning display piece. It's another great addition to the Ideas line of products and will make LEGO and music fans very happy.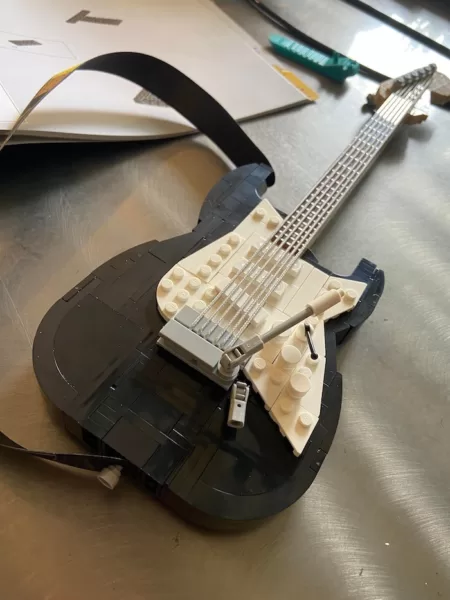 Rating: 4.0 Pastrami Nations out of 5.0