Collectibles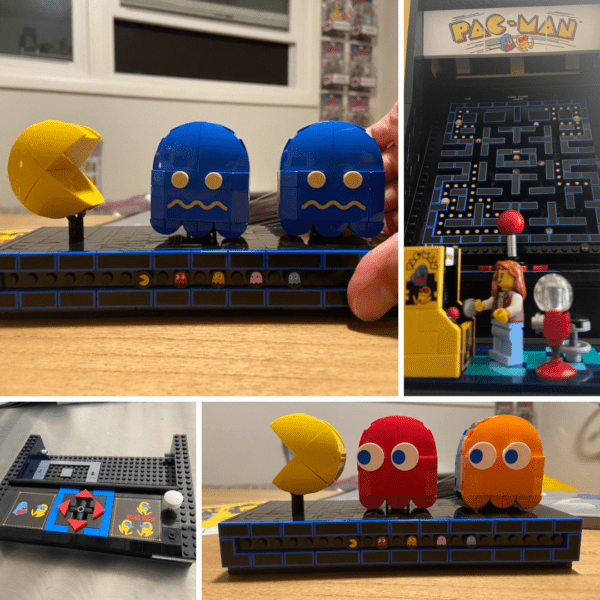 LEGO PAC-MAN Review
LEGO PAC-MAN Review
By Kevin Hoskinson
Entertainment Editor
While LEGO is no stranger to the world of video games in general, they are relatively new to the world of video game-based sets. Starting a few years ago with the buildable Nintendo Entertainment System, the company has been digging more and more into that market. They built on their Nintendo license with a Mario-themed series and a giant Bowser while releasing an Atari 2600 set and a Sonic The Hedgehog buildable level. With the LEGO PAC-MAN set, they have set a new standard and created something unique.
Its design and the pure vision of something so cool makes it unique. This is an excellent reproduction of a classic arcade cabinet that so many of us nerds hold near and dear to our hearts. Growing up in the 80s and 90s, going to the arcade was always something to look forward to. You could easily spend an entire day (and all of your allowance) playing video games with your friends and family. It was a special place where almost everyone could find something that fit their tastes to play. There were games like Dig Dug, Frogger, Galaga, and Space Invaders before games like Mortal Kombat and Street Fighter took the world by storm.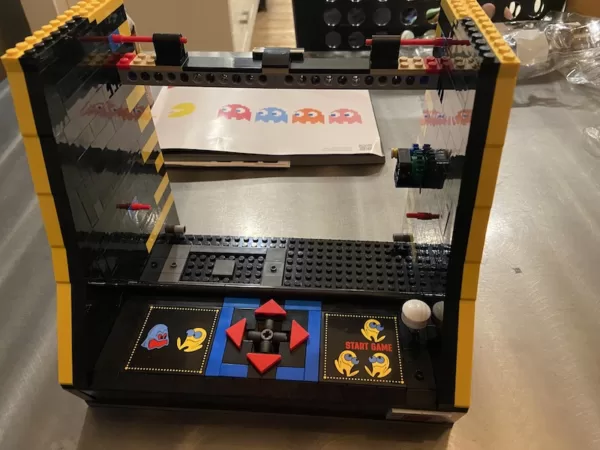 PAC-MAN is also one of those classic games and is at the top of the list for many. Like many others, it's easy to learn and even funner to play. The concept is simple: PAC-MAN must clear the maze-like stage of dots before a ghost takes you out. It's a game that has stood the test of time and has entertained generations, which is why it's the perfect game to get the LEGO treatment.
This is a 2,651-piece set, and it's an interesting build. Not only are you building a mini arcade cabinet, but it also has some very cool functionality and other great add-on elements. When you first begin, you start with a display piece featuring PAC MAN and two ghosts, Blinky and Clyde. When sitting normally, it features the ghosts chasing the titular hero, but with the push of a button, it changes directions with the ghosts turning blue and him chasing them.
Things get really fun when you build the cabinet itself. The joystick and control pad is cool, but the Technic elements are the most challenging. It's not difficult by any stretch of the imagination, but it takes up the most time and can get quite tedious. After you finish it, you have a beautiful recreation of the game we all know and love. After you put it all together, the final touch is a mini recreation of the arcade cabinet and a minifigure.
Overall, this is one of the best LEGO sets on the market. It captures the nostalgia and magic of the arcade perfectly. It may seem a bit expensive, but it's worth every penny. It's a must-have for fans of classic arcade games, and it makes for a beautiful display piece. I highly recommend picking it up.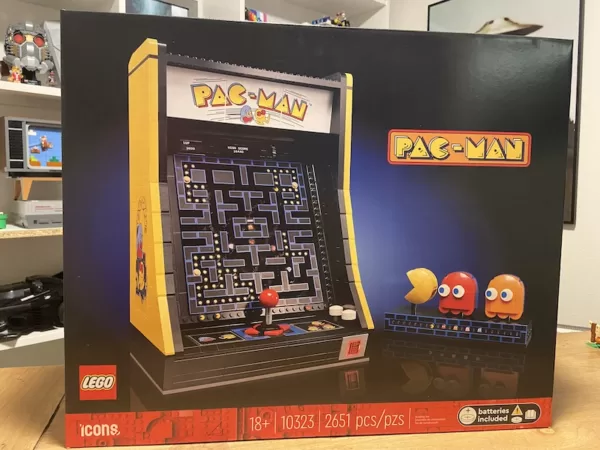 Rating: 4.5 Pastrami Nations out of 5