Uncategorized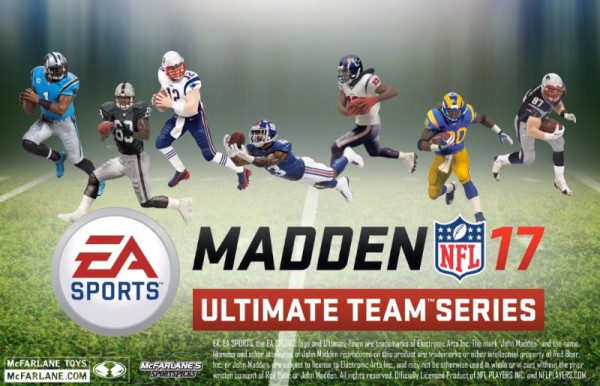 McFarlane Toys Huddles up with EA Sports to Give Gamers a New Way to Enjoy the Madden Ultimate Team in Madden NFL 17
McFarlane Toys Announces Madden Ultimate Team Action Figure Series
In conjunction with EA SPORTS, McFarlane Toys is excited to announce a new wave of collectible NFL action figures that will integrate with the Madden Ultimate Team mode in the immensely popular Madden NFL 17 videogame.
Each individual figure will come with a redemption code that players can use in-game giving them seven Madden Ultimate Team Pro-Packs (a $10.50 value), as well as the opportunity to unlock exclusive NFL stars. Each Pro Pack will contain 10 items consisting of six NFL stars and four non-player specialty items to help players ignite their squad.
For over two decades EA SPORTS Madden NFL has been one of the standard bearers for not only sports, but videogames in general. Madden Ultimate Team has become one of fastest growing modes in the game, allowing players to become the General Manager of their very own franchise, constructing a dream team comprised of current NFL stars and legends of the past, through earning and opening Pro Packs.
McFarlane Toys has produced figures of NFL stars for over a decade, and this collaboration with EA SPORTS will help fans get more involved in the Madden Ultimate Team process through the associated McFarlane Toys figure series.
Beginning this summer, fans can be on the lookout for the first of three Madden Ultimate Team action figure lines which will be composed of at least seven of the top NFL stars in the game today. The first series of Madden Ultimate Team figures will consist of reigning NFL MVP Cam Newton of the Carolina Panthers, NFL Rookie of the Year Todd Gurley of the Los Angeles Rams, Oakland Raiders wide receiver Amari Cooper, Houston Texans wide receiver DeAndre Hopkins, New York Giants wide receiver Odell Beckham Jr., New England Patriots quarterback Tom Brady, and New England Patriots tight end Rob Gronkowski. Specialty and hobby store cases will contain one of two exclusive alternate version figures with game specific commemorative bases.
The seven-inch figures will be extremely detailed and sculpted in an iconic game action pose as fans of the McFarlane brand are accustomed to seeing. These figures will also debut new window box collector packaging and will come with a detailed base.
"Because you get some of these unlockables, the fun part is that the toys are more than just display," said Todd McFarlane, Owner and CEO of McFarlane Toys. "With the videogame and now the figures, you've got that Madden style 24/7, even if your console switch is turned off."
The McFarlane Madden Ultimate Team figures and EA SPORTS Madden NFL 17 will both be available at major retailers this August, with the figures having an MSRP: $24.99. For more information about the Madden Ultimate Team figures, fans are encouraged to check out www.mcfarlane.com as well as the McFarlane social media channels for updates and news. For more information about Madden NFL 17 fans can head over to www.easports.com.
ABOUT MCFARLANE TOYS
Grammy-and Emmy-winning producer/director Todd McFarlane, creator of Spawn, is the creative force behind McFarlane Toys, one of America's top action figure manufacturers. McFarlane Toys has become an industry leader, redefining the standards within the action figure market. For complete information on this pop-culture powerhouse, visit http://www.mcfarlane.com; http://www.facebook.com/mcfarlanetoys; http://www.twitter.com/Todd_McFarlane and http://www.instagram.com/mcfarlane_toys_official.
ABOUT EA SPORTS
EA SPORTS is one of the leading sports entertainment brands in the world, with top-selling video game franchises, award-winning interactive technology, fan programs and cross-platform digital experiences. EA SPORTS creates connected experiences that ignite the emotion of sports through video games, including Madden NFL football, EA SPORTS™ FIFA, NHL® hockey, NBA LIVE basketball, Rory McIlroy PGA TOUR® golf, SSX™ and EA SPORTS UFC®.