Conventions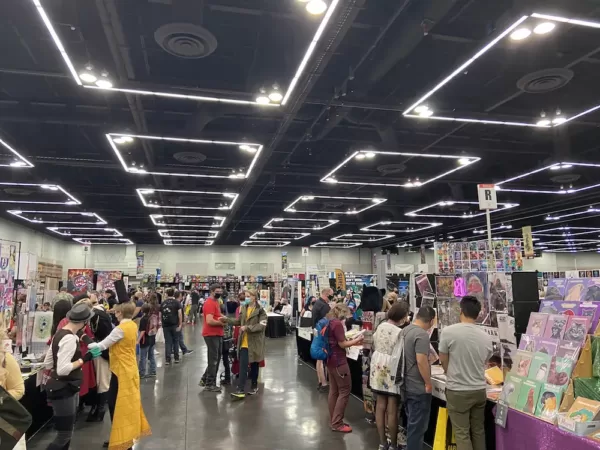 ROSE CITY COMIC CON RETURNS TO THE OREGON CONVENTION CENTER- Portland's Premier Comic Convention! 
By Staff Reports
The 11th annual Rose City Comic Con, Portland's premier pop-culture event, will unite over 50,000 fans of comic books, art, tabletop and video gaming, television and film, show-stopping cosplay, and more at the Oregon Convention Center from Friday, September 22 through Sunday, September 24, 2023. Presented by LeftField Media, the iconic three-day convention will give fans of all ages the rare opportunity to meet top tier comic book creators; A-list celebrities, including Karen Gillan, Jodie Whittaker, Felicia Day, and the entire cast of Critical Role; and enjoy hundreds of hours of programming including exclusive expert-led panels, tabletop and video gaming, cosplay meetups, and more.
Programming favorites slated to return include Rose City Jr., a feature specifically designed for the next generation of fans—complete with an action-packed Movement Zone, creative art workshops, and exciting hands-on activations. Destination Cosplay is also back with the annual cosplay competition. Also returning is the Creator Pro track, perfect for fans looking to break into the comics industry.
This year, the Rose City Comic Con Book Fair is proud to partner with the world's largest independent bookstore and a local staple, Powell's Books. Book Fair allows literature lovers to purchase books, get them signed, discover up-and-coming writers, and enjoy special panels from a variety of esteemed authors.
Gamers will have plenty to geek out about all weekend. Rose City is thrilled to welcome Portland Retro Gaming Expo and Ground Kontrol back to the video gaming area. The show floor will be filled with tried and true arcade favorites and nostalgic games from every era. Tabletop gaming is also back and better than ever! GameStorm, Portland's longest running gaming convention, will be providing an incredible library of board games, along with role playing games for fans to embark on adventurous quests.
Fans can keep the fun going with Dark Horse Comics, creators Kelly Sue DeConnick and Gene Ha, and more for a special Drink and Draw (21+) afterparty on Friday, September 22 at 8:00 pm at Spirit of '77, 500 NE Martin Luther King Jr. Blvd, Portland, OR. Tickets are available to purchase here.
Admission to Rose City Comic Con is required to get an autograph and/or photo op with guests and each badge must be valid for the same day as the session. Admission is not included with autograph and photo op tickets. Fans can purchase autograph and/or photo op tickets by visiting here.
For media members interested in covering Rose City Comic Con, please visit here to apply for a press badge.
Follow Rose City Comic Con on Facebook, Instagram, and Twitter to stay updated on the latest guest announcements, programming details, and more information leading up to the con.
WHEN:
Friday, September 22; exhibit hall hours 1pm – 8pm
Saturday, September 23; exhibit hall hours 10am – 7pm, programming until 9:30pm
Sunday, September 24; exhibit hall hours 10am – 5pm
WHERE:
Oregon Convention Center
777 NE Martin Luther King Jr. Blvd
Celebrity Guests:
Comic Guests:
Book Fair Guests:
TICKETS: Daily and full weekend passes are available. Prices will increase starting September 16th
● Friday Only Admission: $48
● Saturday Only Admission: $62
● Sunday Only Admission: $58
● 3-Day Weekend Pass: $90
● Kids Admission: $15. Valid for kids ages 3-10. Valid for full weekend or any day individually.
WEBSITE: https://rosecitycomiccon.com is updated regularly with new guests, exciting exhibitors, and special programming.