Comics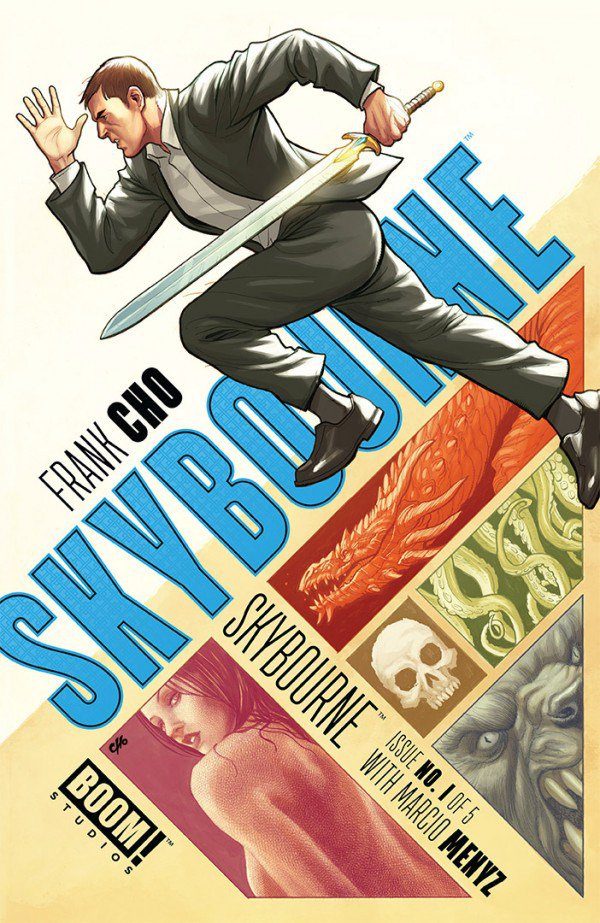 Skybourne #1 Review: Deadly Good
Boom! Studios Brings the latest Frank Cho Series, Skybourne, to Life
By Nolan P. Smith
One of my favorite creators in comics has to be Frank Cho. His artistic style is so unique, you can spot a Cho book from a mile away. So when I heard that Cho would be creating, writing and drawing a new mini series for Boom! Studios, I immediately added it to my pull list. Now that the first issue has hit, do I have any regrets?
My only regret is that this is only a mini series.
Skybourne is about the three immortal children of Lazarus: Abraham, Thomas and Grace Skybourne. This issue focuses primarily on Grace, and her mission to recover a world-renowned artifact: the Excalibur sword. The issues shows the how the "transaction" is handled, that being with fights and lots of blood. A very spy feel to the book, we also see a mysterious yet powerful man introduced, one who leaves a point for a major cliffhanger ending. I really dug the whole vibe of the book, plus throw in super strong immortals and I'm hooked.
The artistic side of the book is amazing as well. Cho's artwork has never looked better, with coloring by Marcio Menyz. For me, Cho draws to aspects of a book better than anyone in the business: those being women and dinosaurs. Though no dinosaurs appear in this book (so far…), his rendition of the powerful, graceful Grace is outstanding to say the least. Easily one of the best looking books to hit the shelves this year.
My only gripe would be how much is still left in the dark after reading the debut issue. I know, you can't give away all the details in the first issue, but it would have been cool to get more background info on Grace and the organization she works for, as it would help the reader figure out why this transaction for the sword was happening in the first place. But that would be my only suggestion on this issue. I was pulled in to this world, left wondering who certain characters will end up being and where the story goes now after one heck of an ending. Skybourne should be on your pull list, and with it just being released, you can be on the ground floor of what seems to be a home run of a new series.
Rating: 9.0 out of 10.
This comic book review was created in conjunction with QBC Toys and More, a local comic book and collectible shop located in Victorville, CA. Featuring new comic books every week, collectibles, action figures, original artwork, and more, QBC has something for the pop culture lover in us all. You can find them on Facebook at https://www.facebook.com/QBCToysandMore/.