Comics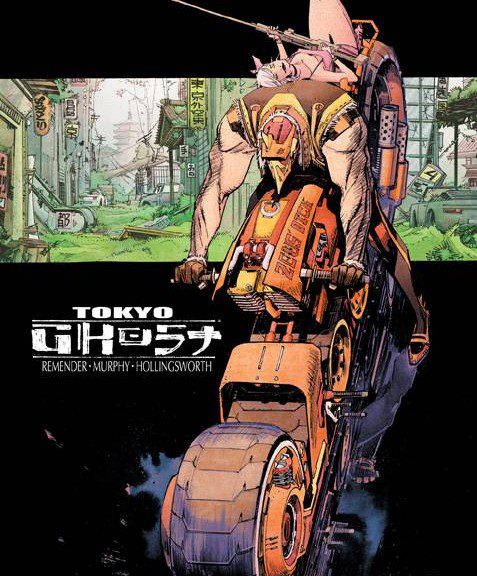 Tokyo Ghost #1 Review: A Haunting Reflection of Modern Society
Review by Nolan P. Smith
The world is in love with technology, that's a fact. I would take it a step further and say we are addicted to today's technology. From ever evolving smartphones, tablets, smart watches, Google Glass, to 3D printing, social media, and more, it's become an integral part of our lives. With Image Comics latest series, Tokyo Ghost, we see a nightmarish look at the next level of a tech-obsessed society.
It's 2089, and the world has taken their love of technology to a new and sickening level. People are literally addicted to their technology fix. They depend on it like we depend on oxygen to breathe. Everyone in Los Angeles has some sort of technology fix, except Constable Debbie Decay, one of the ones charged with keeping the order in this frantic, nightmarish land. Even her partner, Constable Led Dent, is more concerned with the multiple screens in front of him than the missions he's on. The duo is on "one last job, according to Decay, which is a hyper paced romp through the colorful streets of Los Angeles.
Remender crafts a eerie yet not too distant future that feels like Mad Max addicted to YouTube. By tying in the all too familiar technology woes we all know, it really makes the book feel like we are only a few figurative steps away from this. Remender shows us that Constables Dent and Decay had some sort of past together, but it seems strained and almost non existent with Dent's addiction to his multiple videos, browsers and what not. The chase scene throughout the streets to find a man in control of the Internet is panel to panel action, but we are only teased with what makes Debbie and Led tick.
Murphy and Hollingsworth are the ones that bring the visuals to life; the vibrant colors against a dark pathway for humanity is one that's addicting in itself. The designs for this dystopian future are spot on, and really makes the book feel unique. To me, it felt like a dark, action packed anime episode, one I wish didn't end as soon as it did.
This mature readers title is an exciting start to what I hope is an epic run. I look forward to the "Tokyo" part of this book, and to see just who Debbie and Led are, and what their future holds. Remender, Murphy and Hollingsworth have created something special here, something I can't wait to continue reading.
Rating: I give Tokyo Ghost #1 a FOUR out of FIVE. The future looks bleak; bleak and entertaining as hell.
Writer: Rick Remender
Artists: Sean Gordon Murphy and Matt Hollingsworth
Publisher: Image Comics