Comics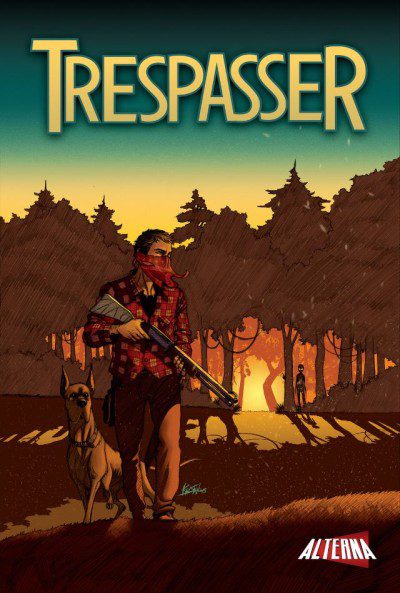 Trespasser #1 Review: Desperate Times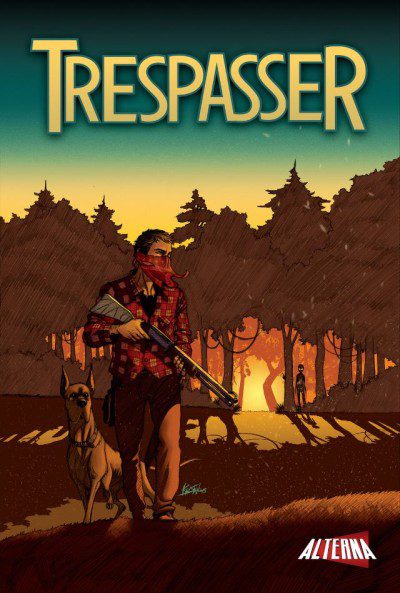 Review by Nolan P. Smith
(Victor Valley)—When I first downloaded Trespasser #1 from Alterna Comics, I wasn't quite sure what I was getting into. By looking at the cover, I thought I was in for a man and his dog against everyone type of story: what I got was something far more.
Written by Justin Ryan with art by Kristian Rossi, we get a story about a man, his dog, and his daughter, living in a secluded part of what appears to be somewhere in middle America. Times are tough, and food is scarce, which sends the man and his trusty canine out to hunt for something for the three to eat. What he finds is a tiny alien in a bear trap, and it looks like his life will never be the same.
The story is well written, and takes a sharp turn near the end of the book, throwing me for a loop I really didn't expect. The artwork by Rossi is stellar- from the casual to tense moments, the story is told visually in a beautiful manner, panel by panel. Everything here flows so well, and leaves you wanting to find out what's next, especially after the heck of a cliffhanger we are given.
Trespasser #1 is an excellent start to the series, leaving readers wanting more, as we have to know what the repercussions are for what happens in the first issue. This book is available now from Alterna Comics: http://www.alternacomics.com.
Rating: 9 out of 10.
This review was created in conjunction with QBC Toys and More, a local comic book and collectible shop located in Victorville, CA. Featuring new comic books every week, collectibles, action figures, original artwork, and more, QBC has something for the pop culture lover in us all. You can find them on Facebook at https://www.facebook.com/QBCToysandMore/.